In this guide:
Why can I no longer see a link to the application I should have access to?
The applications list that you will see on the Aize home page can vary depending on your access and the tenant ('organization') you're logged in to.
You might be added to more than one tenant, but the application you are looking for is only enabled in one of them. See below how to switch between the tenants or set a default one, so you are always in the right place.
How to switch between tenants?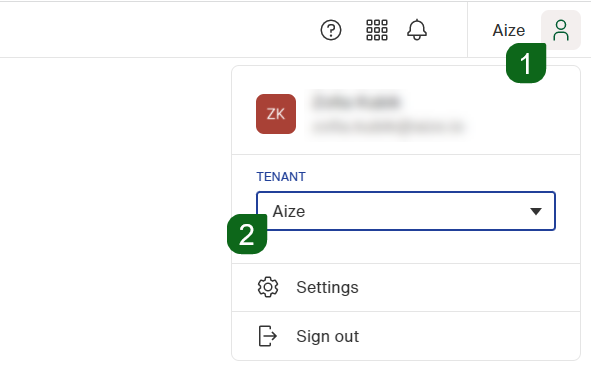 Click on the User icon in the top right corner
Choose the relevant tenant from the Tenant dropdown menu.

note: you will only see the dropdown menu if you have access to more than one tenant
Setting your default tenant
You might be added to several tenants, but there probably is one that you use the most. You can choose your default tenant, so every time you access Aize, it will open with the correct view.

Click on the User icon in the top right corner
Click on Settings
You will see your profile settings - click on the Edit option

Note: your current default tenant will be highlighted in green and marked with a star icon

Click on Set as default by the tenant you want to make your default
Save your changes by clicking on Update